As part of our project to mitigate the effects of climate change on cultural heritage sites in Uganda, we have embarked on documenting cultural heritage sites in the Rwenzori Mountains National Park, a UNESCO world heritage site. A total of 15 sites have so far documented sites between River Lhubiriha (on the Congo board) and and River Nyamwamba in Kasese District. Among them are scenic waterfalls, ritual trees, craft skills learning centre, historical places where the first Omusinga (king) lived and where he is buried.
The Bakonzo originally lived in the mountains and their way of life is greatly influenced by it – they practice agriculture, fishing and hunted in the past. It is therefore believed that the ancestors of the Bakonzo (especially their spirits such as Kitasamba, Ndyoka and others) are deep rooted in the caves, rivers and snow on the mountain.
It is against this background that CCFU embarked on the documentation of the cultural heritage sites in the Rwenzori Mountain National Park.
A booklet will be published, disseminated and the ICH aspects will be registered with the National ICH inventory at the Ministry of Gender, Labour and Social Development.
Challenges to safeguarding the sites
Climate change -the flooding rivers and landslides have either washed away features that distinguish the cultural heritage sites or blocked access to them having a negative impact on the sites.
There is also  the accessibility challenge as the communities need permission from the Uganda Wildlife Authority, the government body that manages national parks.  This coupled with the deteriorating intergenerational transmission mechanisms  for cultural heritage also poses a threat to the preservation efforts by the Bakonzo of their cultural heritage.
CCFU is engaging the Authority  with hopes of signing a memorandum of understanding to ensure that there is periodic access to the sites, to enable the Bakonzo to practice, appreciate and enjoy their cultural rights and heritage. Where it is possible, tourism trails will be established. This will not only promote the cultural heritage of the Bakonzo but will as well enrich tourism in the region by adding cultural tourism to the package.
Mitigating the impact of climate change on Uganda's heritage sites – Our previous interventions.
The Cross-Cultural Foundation of Uganda (CCFU) in partnership with the International National Trusts Organisation (INTO) embarked in late 2020 on a project aimed at contributing to the preservation of the important elements of the cultural heritage of communities in the Rwenzori and Alur regions.
With support from the British Council's Cultural Protection Fund, in partnership with the Department for Digital, Culture, Media and Sport, heritage sites under risk from climate change were identified, documented, part-protected and signposted. The project not only illustrates the relationship between climate change and natural and cultural heritage, but also shows why measures to address climate change require the involvement of diverse stakeholders, especially of cultural leaders and other holders of indigenous knowledge.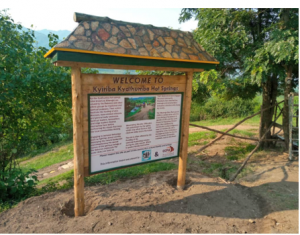 A booklet that describes the cultural significance and history of nine sites in the Rwenzori region, as well as the threat these sites confront due to climate change was produced. The booklet intended to inform concerned communities, visitors and authorities, and to call for the protection of important cultural sites at risk in the country. Download the booklet here