High level symposium between the Council of Traditional Leaders and the Inter-Religious Council
On 9th December, 2021, as part of the activities to mark the 16 days of activism against Gender Based Violence (GBV), leaders from cultural and religious institutions and representatives of civil society organisations meet to dialogue on ending violence against women and girls.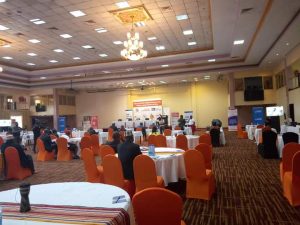 The event was organised by the Ministry of Gender, Labour and Social Development, UN Women, Inter-Religious Council of Uganda (IRCU), the Cross-Cultural Foundation of Uganda (CCFU), Queen Mother Best Foundation and the Council for Traditional Leaders of Africa (COTLA); with support from the Embassy of Sweden.
The event officiated by the State Minister for Gender and Culture, Hon.Peace Mutuuzo. While addressing stakeholders at the event, the minister commended them for fighting for the rights of women and girls especially through activism. The Minister also acknowledged the role that men and boys play in perpetuating violence against women and girls and encouraged stakeholders to actively involve men in the fights again gender based violence.
According to the 2016 Uganda Demographic and Health Survey (UDHS 2016), teenage pregnancy is alarming at 25% while unsafe abortions and maternal mortality are at 28% of maternal deaths occurring among young women (15-24 years). Teenage pregnancies are particularly high in the East Central, Eastern, and Karamoja regions (30%) compared to other regions, with the Southwest region having the lowest (15%) and Central region the second lowest (19%). Furthermore, in Uganda, 10% of girls are married by 15, 40% are married by 18 and the country has a very low primary survival rate of 33% 6, indicating a serious dropout phenomenon.
The COVID 19 pandemic has exacerbated the already appalling situation and has led to increase in teenage pregnancy, worsened prevailing (Sexual Rights and SRHR challenges and increased child marriages in communities.
What role can cultural and religious leaders play?
The task for both religious and secular leadership is twofold: 1) to recognise that religious beliefs, texts, and teachings can serve both as roadblocks and as resources for victims of violence and 2) to deepen our examination of religious texts and teachings and explore new interpretations so that we minimise the roadblocks and maximise the resources for women. No woman should ever be forced to choose between safety and her religious community or tradition. She should be able to access the resources of both community-based advocacy and shelter and faith-based support and counsel.
Further more, these leaders should adequately respond to the needs of battered women and rape victims, it is imperative that clergy learn about violence against women and reach out to secular advocates and services. Likewise, it is imperative that secular advocates and counselors appreciate the importance of women's religious backgrounds and reach out to clergy and religious groups to find resources to meet the needs of victims. Religious leaders also can utilise their positions as community leaders to help shape the discussion of issues concerning violence against women.
Commitments from cultural and traditional leaders 
Representatives of cultural institutions under their Council for Traditional Leaders in Africa (COTLA) – Uganda Chapter umbrella have committed to sensitise their communities, families and individuals to end GBV, fight teenage pregnancy, end child marriage so as to achieve the sustainable Development goals for promoting gender equality and improving Maternal Health, ensure that positive cultural practices are harnessed to promote women and girls' rights and negative cultural practices denounced.
In the same vein, representatives of religious institutions under the Inter-Religious Council of Uganda (IRCU) pledge to avail their universal structures and infrastructure to both state and non-state actors while addressing issues that affect women, children and youth and in particular the challenge of gender based violence within our communities, encourage parents and their children to engage in healthy and open dialogues on sexuality and issues related to teen pregnancy prevention, stay familiar with emerging issues, technology trends, and the present-day challenges adolescents often face, including the responsible use of cell phones, social networking sites among other commitments